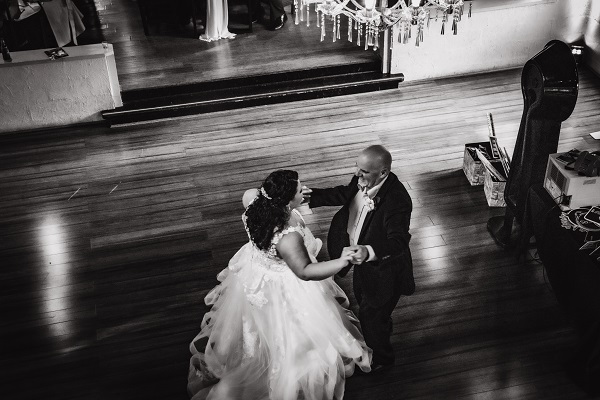 It's the first dance you share with your father as a married daughter after innumerable dances together over the years, and it's a special occasion. It's a happy dance, but it's also a sad dance since you're celebrating a new life and bidding goodbye to your younger self. The music you chose for your father to dance to is unique and represents your great connection with him. It might also be a personal message from your father, expressing your thanks for everything he has done for you. These are the finest father – daughter wedding dance songs, ranging from classic and sentimental father-daughter dance songs to lively and creative father-daughter dance songs.
BUTTERFLY KISSES – BOB CARLISLE 
If you were born in the 1990s, you'd remember Miley Cyrus belting this song alongside her father, Billy Ray Cyrus, in the Hannah Montana movie. As it represents parenting, this ballad is perfect for a daddy-daughter song. He has gone above and beyond, from assisting his daughter during nighttime prayers to leading her down the aisle. The heartfelt lyrics are bound to bring a few tears to your eyes as you listen to this beautiful song. Prepare the tissues.
YOU'LL BE IN MY HEART – PHIL COLLINS 
If you and your father were fans of the Disney film Tarzan, this song might be ideal for a father-daughter dance. The words "My arms will embrace you, Keep you safe and warm, This tie between us, Can't be broken" represent your father's relationship with you, in which he will always be there for you no matter what happens. This song is especially fitting for the occasion because it was written for Phil Collins' daughter, Lily.
WHAT A WONDERFUL WORLD – LOUIS ARMSTRONG
This timeless and iconic 60s music is for a formal ceremony or a casual garden wedding. The words are heartfelt and joyous, and the beat isn't too sluggish or jazzy to make you skip a dancing step.
MY GIRL – THE TEMPTATIONS 
This Motown classic from The Temptations is our best selection if you know you'll be emotional and want to prevent another tearjerker. The words are simple and nice, yet they portray a lovely father-daughter bond. It has a faster tempo, so your father and you can have a good time on the dance floor, and your friends can sing along.
DANCE WITH MY DAUGHTER – JASON BLAINE
It's a father's letter to his daughter. It's about a father who wants to spend as much time with his daughter as possible, knowing that he'll have to let her go one day. "Spin her around beneath the lights, Cause I'm just a father, Making the most of this moment in time, Before she lets me go, I'll hug her tight," the lyrics brilliantly reflect a parent's sentiments. So prepare for an emotional daddy-daughter dance as he performs this song to you.
I'LL BE YOUR MAN – ZAC BROWN
Zac Brown, a father of four daughters, created this song when he found out he was expecting a child.
HERE FOR YOU – NEIL YOUNG
Neil Young composed this song for his daughter, who was 21 years old and in her final year of college at the time. "When your summer days come tumbling down, And you find yourself alone, Just close your eyes, and I'll be there," the lyrics say, referring to a father's constant presence in his daughter's life. Neil also sings of how much he misses her but refuses to keep her down, stating, "Yes, I'd miss you, But I never want to hold you down," instead of promising always to be waiting for her with open arms whenever she comes to him.
This song is about a father's unconditional love for his daughter, never pressuring but embracing.
HALF THE MAN – JENNIFER SMESTAD
This song could be the best music for your father-daughter wedding song if your father were genuinely your idol. Jennifer talks about her father, who set a high standard for her future husband since he was a genuinely outstanding father.
FOREVER NOW – MICHAEL BUBLE 
The film, which depicts a parent's journey, caused parents all around the globe to cry. From being the kid's go-to person for anything to letting them go and do their own thing, parents must constantly reassure their children of their unconditional love and support.
We hope you discover a song that signifies something to you and your father, whether it's a melancholy song or one with a catchy rhythm. Whatever you decide to play, it should be an expression of your relationship. It can be serious or silly. It's up to you!
---
For more information about our Wedding DJ Yarra Valley services, you can contact us at 0411 587 506 or click here. 
Want to add photo entertainment for your event? Click here for more information. 
We service Melbourne, Yarra Valley, Mornington Peninsula, Bayside, Dandenong Ranges, Phillip Island and other parts of Victoria.