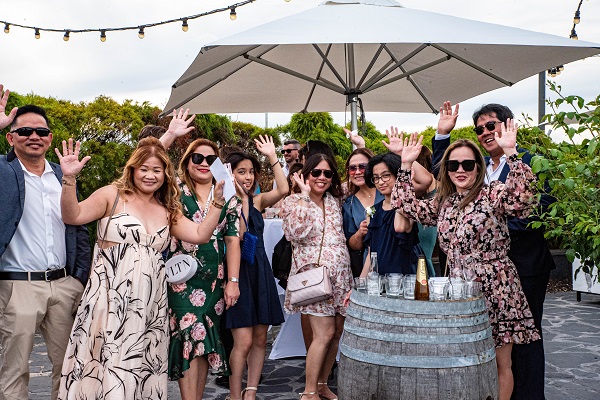 Your Melbourne wedding ceremony and reception get a lot of attention throughout the planning phase, but what about the cocktail hour? This period of your big day may be brief and sometimes overlooked, but that doesn't mean it's unimportant! There are many methods to elevate your cocktail hour and set the tone for your wedding reception while also getting your guests in the mood to party.
Melbourne Wedding Cocktail Hour – Tips on Entertaining Your Guests
Cocktail Bar with Self-Service
While cocktails are a given during this phase of the wedding, it's in the name. So why not let your guests make their concoctions? Have a variety of exciting glasses, straws, and cocktail napkins on hand and the crucial ingredients for a few different cocktails. Make a few little placards with recipes so that your visitors know what they're doing. Don't forget the lemons and limes!
Add a Specialty Bar to the mix.
Make a unique "bar" during cocktail hour if you and your prospective spouse enjoy craft beers, cigars, or cheese. A "bar" of delectable seafood, salsa and chips, or popcorn are some additional entertaining options!
Have some entertainment or music
Including music or entertainment during cocktail hour will wow visitors and put everyone in the mood to have a good time and celebrate. For example, you can hire a traditional harpist or a Wedding DJ with an acoustic duo.
 Incorporate Lawn Games
If your cocktail hour is taking place outside, include lawn games to offer your guests something to do. Cornhole, croquet, giant Jenga, and even giant connect 4 are examples.
Make an Instagram-worthy moment.
At weddings, guests love to snap photographs, so set aside some time during cocktail hour for them to take a selfie. Have a photo booth set up with props for your guests to use.
Pay close attention to specifics.
While many couples overlook particular details during cocktail hour, paying attention to them may significantly impact. Consider using creative signs, festive napkins, cute straws or swizzle sticks, or personalised mugs for your guests to drink from. There are many ways to make the cocktail hour at your wedding reception memorable. Whatever you do, it will undoubtedly be a special and a significant part of your wedding day.
---
For more information about our Wedding DJ Yarra Valley services, you can contact us at 0411 587 506 or click here. 
Want to add photo entertainment for your event? Click here for more information. 
We service Melbourne, Yarra Valley, Mornington Peninsula, Bayside, Dandenong Ranges, Phillip Island and other parts of Victoria.