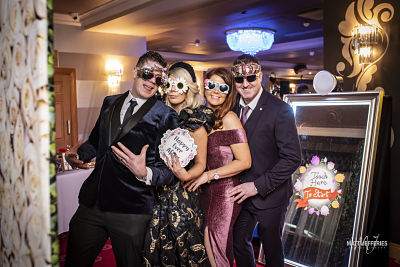 Add A Modern Mirror Photo Booth Yarra Valley To Your Wedding Today
Could you imagine having fun at one of our photo booths?
It would be entertaining for you, your friends and family to have a modern mirror photo booth Yarra Valley. You have been to weddings where your friends and family get bored after an hour or two. Some wedding couples would suggest playing fun games like trivia, the shoe game and many more. However, it may get boring the longer they go on. If you are interested in entertainment, you should look into hiring a photo booth from our modern mirror photo booth Yarra Valley range. 
Some guests might not even think of partying with a Yarra Valley photo booth, but it can be heaps of fun. We all know about photo booths and we usually only see them at weddings. You rarely come across a photo booth with awesome features styled to the wedding, and custom made props and our photo to your phone feature as well as printed pictures. We believe photo booths should be at every wedding. Couples usually think of adding other activities to keep their friends and family entertained. The wedding DJ is a must which we also offer, but the photo booth is the one that creates long-lasting memories you can look back on for years after the wedding.
Photo Booth At Weddings – Awesome Choice
If you plan on having a small wedding, getting a photo booth is an excellent choice. It is a fun activity for your family and friends to do in-between food and important wedding moments. Most photo booth businesses in Melbourne offer instant picture printing that serves as a wedding gift for your friends and family. You can use props and have a backdrop that goes with your wedding styling. Just tell the photo booth business which backdrop you would like to use, and they will bring it on the day of the wedding to use with their photo booth. We have a range of backdrops to choose from to match your theme. We also custom make our own props, meaning you will have the most fun and creative props around.
Photo Booths Are Budget Friendly
 The reason why couples avoid renting a photo booth from photo booth businesses is because of the cost. Many couples assume that they are really expensive and that you should only get them only for BIG parties or events like baby showers, weddings, and corporate parties with numbers of 200 plus guests. But in reality, our photo booth hire is cost-effective. They have become budget-friendly now with the advance in technologies.
Easy To Organise  
Hiring a photo booth Yarra Valley for your wedding is really easy and stress-free. All you need to do is call Matt Jefferies Entertainment or fill out our online enquiry form. Tell us your requirements and what theme the wedding is. We will provide you with a fast quote, and once you choose to have one of our photo booths at your wedding, and we will start designing your custom photo layout as per your requirements. If you have something in mind, you can also discuss it with us. Let us know every detail and colour that you would like us to focus on for your wedding. We will get you to approve our design once we have made the perfect layout that suits you. 
Find Photo Booth Company Online 
You can find photo booth businesses online. Matt Jefferies Entertainment is a leading photo booth business offering photo booths in Melbourne, Yarra Valley, Dandenong Ranges, Mornington Peninsula, Bayside and Phillip Island. We pride ourselves on helping you book your photo booth quickly and with ease. Our team has years of experience in weddings and events and know how to make everybody at your wedding have a blast.
This blog was written by Wedding Photo Booth Yarra Valley