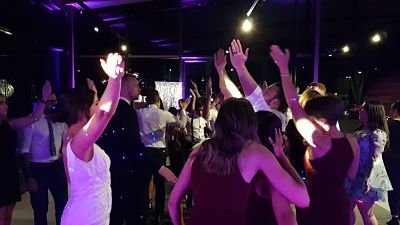 Why Your Wedding DJ Melbourne Might Be The Most Important Business You Hire
What most people do not realize is that a wedding DJ Melbourne does SO much more than simply press play music, and for this reason, picking the right wedding entertainment Melbourne DJ can really make or break the wedding. If you are still sceptical, then please let me break it down for you.
I know what you are thinking. "Is a specialist DJ really that important at my wedding? I mean, can't I just set up playlists via Spotify on my mobile phone & plug it into some speakers & spend that cash somewhere else?"
I truly can not tell you how many times a couple has asked me this question when starting their wedding business hunt for their wedding day. Would you like to know what my answer is 10 out of 10 times?
"PLEASE do not do that to yourself, your friends and family, or myself."
At this point, I usually get a somewhat confused expression in response because, well, it is just a wedding DJ; how important will they really be? Now, I do not mean to call anyone out or make you feel bad for thinking this because you are certainly not the only one. 
What most couples do not realize is that a wedding DJ does SO much more than simply press play music, and for this reason, picking the right wedding DJ Yarra Valley can really make or break your wedding day. If you are still sceptical, let me break it down for you to easily understand.
A Great Wedding DJ Melbourne Sets The Mood For Your Entire Reception.
Think about that time you first stepped foot at a wedding reception. What was the very first thing that you noticed? Probably the scenery, maybe some amazing decorations, but most likely there was awesome music playing that really brought everything together & made the whole night feel real & romantic, and if you are anything like myself, maybe it even gave you some goosebumps as you took in the life-altering event about to happen.
A seasoned, professional, and practised wedding DJ knows exactly what songs to play to hit all your friends and family right in the feels & really make the reception feel totally like YOU, right from the moment the friends and family first arrive. They will ask you questions about what your favourite styles of music, favourite songs, if you have a special song together as a couple & more questions to really get a sense of how to best tell your love story through music at the wedding reception. Not to mention, they will know not to press play on "Baby got Back" immediately after dinner is finished.
Wedding DJs Will Maintain The Flow Of Your Reception
Think of a professional DJ as more of an MC for the wedding. Yes, if you have a good wedding coordinator or planner, they play a big role in maintaining the flow of the wedding reception and creating a run sheet or timeline for the day or evening. Your hired DJ, however, is the one that executes this timeline & informs friends and family of pertinent information throughout the course of the evening. Have you ever tried to send 250 guests through a buffet line with zero direction? A great DJ will know how to do this well.
A amazing DJ knows how long events take at the wedding & can plan accordingly. They will know how frequently to release seated tables through the buffet line when to cut off speeches because friends and family are visibly losing interest, and just the right tune to hit play on when there is a lull in the wedding. Throughout the whole evening, the DJ is the one that will relay all the important information to your friends and family, such as introducing the grand entrance, first dance, cake cutting or getting all the single ladies and unmarried ladies on the dance floor for the bouquet throw. Without a professional wedding DJ, many of these events go missed, or friends and family are left out as they had no clue they were taking place.
A Good Wedding Dj Knows How To Read A Crowd
I have been to weddings where they opted to not have a professional DJ M<elbourne and instead had a mobile phone playing a playlist of tunes. Now, in certain situations, this may work (during cocktail hours, during dinner background music or the very end of the evening when the DJ is packing up, but you have a crew of guests that still want to dance). A situation in which this will not work is during the main time of the reception when friends and family are ready to hit the dance floor.
With a mobile phone playing tunes in plain sight, it becomes a free-for-all in which friends and family can pick any song they are feeling at the time, which could very much be in the middle of the song you are finally getting your groove on to, and no one wants to stop and start dancing to seven different songs in ten minutes. A wedding DJ, however, can read what your guests are responding to and keep playing songs of that nature to keep the dance floor full while also taking requests that they may play when the time is right, so that everyone gets to listen to a little of what they wouuld like while not causing disruption or creating an awkward environment.
Your Wedding DJ Will Allow You To Have Fun & Enjoy Your Wedding Day
With or without the help of a wedding planner or coordinator, the wedding DJ is there to ensure the day runs smoothly & according to the run sheet so that you do not have to worry about anything. You do not have to pay attention to the clock to make sure you start speeches, first dance and other formalities on time or remember which order you wanted them to go in. You do not have to work out what you think all 200 of your friends and family will want to listen to/dance all night long to or know just the right tune to get everyone out of their seat at the start of the reception. All you need to do is enjoy and have fun on this special time you have with all of your closest family & friends and make it a night you will never ever forget – the professional DJ will do the rest. 
You might still be sitting on the fence about renting a Wedding DJ Melbourne, let me assure you that you will not ever regret the choice to hire a great, highly recommended wedding DJ, even if it means spending more cash in this area than you originally had planned to and thought was necessary. The Wedding DJ Melbourne can truly make or break your wedding reception and can be the one thing that you look back on & regret not having, or look back on & be so happy someone was there to guide your day & show your friends and family a great time.
Blog is written by Matt Jefferies Entertainment – Click here