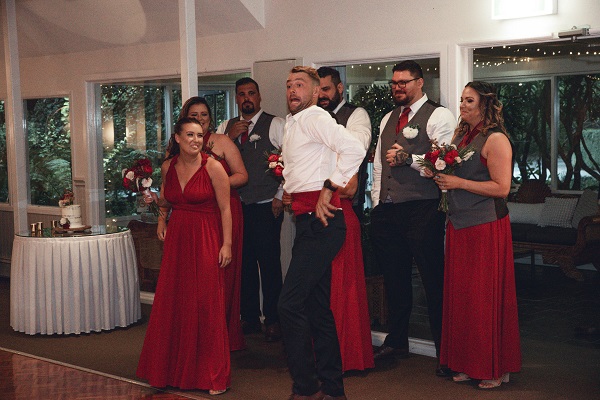 Some wedding customs, such as the bouquet and garter toss, have lost favour. So instead, some women seek methods to make their weddings stand out from the crowd. We've enjoyed witnessing our happy couples' ingenuity as they include new events into their big days over the last few years. Here are a few examples of Yarra Valley Weddings Bouquet Toss options:
Gifts for all the single ladies:
We've seen brides offer something to all the single women in the crowd at a few weddings. It might be a wedding favour, a gift, or even a single flower from the bouquet. Isn't it adorable?
Breakaway Bouquet:
Create a bouquet with your florist that will "fall apart" when hurled. It's usually a loose bouquet with the ribbon that holds it together removed. When tossed into the crowd, the bouquet splits, and many visitors get the flowers. A giant bouquet that comprises 3-5 smaller bouquets can be distributed among several lucky women.
Couple Dance:
This is a method to honour the married rather than single guests at your wedding, and it's probably just as expected (if not more) as the bouquet throw these days. Invite married couples to the dance floor, and as the song progresses, Your Yarra Valley Wedding DJ could ask couples to depart based on how long they've been married. The longest-married team is left at the song's end, and they are handed the bouquet and occasionally the garter (or a personalised gift.)
Yarra Valley Weddings Bouquet Toss for All Women:
Why should your married female guests be excluded? Some folks choose to invite all of their female friends to the wedding and toss the bouquet to them. You won't humiliate the women who don't appreciate being "singled out," and everyone will have a good time!
Dance in a Circle:
The unmarried women make a circle around the blindfolded bride in this version. The circle comes to a halt during the song, and the bride reaches out and presents her bouquet to whoever is in front of her. The happy woman keeps the bouquet!
Yarra Valley Wedding DJ Tip:
Do the toss (es) soon after the cake cutting, whichever you decide. Then, while your guests are amused, the caterer will be able to cut and serve the cake!
---
For more Wedding Entertainment Yarra Valley music and entertainment tips, click here. 
Want to add photo booth? Click here for more information.